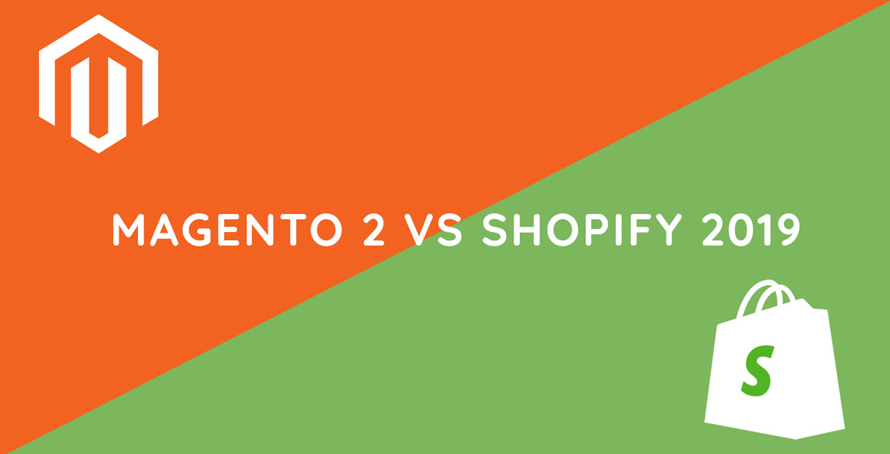 Selecting the right ecommerce platform is very important. Ecommerce business success depends on finding platform that`s better suited for your needs. There are hundreds of ecommerce website platforms. Two of the biggest ones today are Magento and Shopify. Even though they are both ecommerce, they are completely different systems.
Shopify is the biggest competitor in the market for Magneto but with the release of Magento 2.0, Magento might have inched higher on the scale to be a good solution for all business sizes.
Let me highlight Magento 2 and Shopify differences here. This blog will hopefully help store owners choose the best ecommerce platform for their needs.
Platform Popularity
Magento is the most commonly used ecommerce platform at 14% of the top million sites. It's 6% for Shopify. Magento as keyword get searched more often as well on Google search. Magento has some big names like Nike, Rosetta Stone, Olympus, and Ghiradelli as users. Shopify has a few big names too like Tesla and the Los Angeles Lakers' Store. Though majority are small and mid-sized businesses, both stores cater to successful companies with their direct paid support system but at very high price for an average online business owner.
Programming Language
In terms of programming languages, Magento and Shopify vary vastly. Magento uses PHP, while Shopify uses a Rails and Ruby with proprietary templating language called Liquid. Magento is open source; Shopify is proprietary. Obviously open source will be easily expandable than closed source systems. With Magento, template code can be altered to suit specific store needs, while with Shopify, it is very difficult.
That makes Shopify a good solution for simple stores, but not great for more complex ones with specific advanced functions that require modifications of the source code.
Ecommerce Website Cost
Users pay a monthly subscription fee to access the Shopify software. Shopify gives you a free trial initially, but after that, you'll have to pay. The Basic store is 29/usd/month and goes up to $179/month. And more flexible Shopify Plus with more bells and whistles starts from USD 2,000.00 per month. By paying this much more per month, Shopify users are able to access more features like abandoned cart recovery, gift cards, and advanced reporting. In comparison, Magento users can add these features for significantly less per year. A complete abandoned cart recovery solution from 3rd party vendors may have a one-time fee or a small annual fee if you require support and upgrades from them.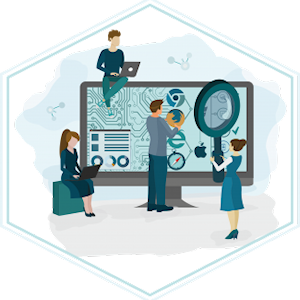 Shopify also charges transaction fees for payments made through external payment gateways like PayPal, Braintree, Authorize.net etc. The fee percentage ranges from 2.0% to 0.5%, with more costly monthly subscriptions cost you lower transaction fees. So each time there is a transaction, Shopify takes a cut. If your store sees a lot of transactions, the fees can easily rack up to quite a bit of money. Users can avoid these fees by using Shopify's direct payment gateway but slightly higher interest rates.
While Shopify is hosted by the company, Magento is a self-hosted solution, so users will have to pay a third-party hosting service. This can go from $25 to $150 per month depending on store size.
Good hosting is essential for a successful ecommerce website. Hosting can affect site speed, storage, and the number of products an online store can handle. Magento users are able to choose the hosting solution that fits their needs and the price that comes with it, instead of a higher flat rate at Shopify.
The Community Edition of Magento is free to download, a great option for developers and small businesses. The Enterprise solution where support provided by Magento itself cost depends on the specific online store needs but starts around $200k per year.
For both Magento and Shopify, you must factor in the cost of any add-ons. Chances are the basic software will not be enough to create the online store you want, so the expected price may be higher.
In addition, Magento users may need to enlist the services of a developer to set up and manage the store, so this must be factored into potential costs. More extensions you will have in your store more potential maintenance cost it may be.
Webstore Scalability
Web developers tend to favor Magento over Shopify for large-scale stores with many products.
If you're looking to start a small store without commitment, Shopify is a good choice. If you want an online business that has the ability to grow and evolve with more flexibility, Magento is a much better solution.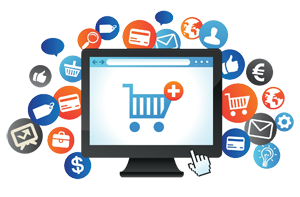 Magento is a robust tool for business owners. With over 5,000 free and paid add-on extensions, Magento definitely has the advantage when it comes to expandability. Compare this to just over 100 apps and add-ons for Shopify.
Any ideas you have along the way can most likely be integrated with your store through affordable extensions for Magento. Custom error messages to custom shipping; various integrations with online offline software are possible with Magento. The possibilities are limitless and cost within bounds.
With Magento, every aspect of a website is under the business owner's control. This control is of great value. Admin can create and manage several stores within the same admin panel even with free community version whereas Shopify you will need to sign on to Shopify plus for few thousands per month to get.
Compared to Shopify, Magento comes with more frontend features such as coupon codes, giftcards, customer dashboards, related products, wishlists, order status modules, and more.
Branding and Design
Creating a successful online store involves forging an unique branding strategy. Branding is everything from design to customer support but beginning with design and design can be better in Magento.
Both Magento and Shopify offer many free and premium themes. Most  themes for both platforms are responsive so can be easily viewed on different devices.
Because Shopify themes are proprietary, they don't allow much of  tweaking. Beyond changing colors and font, Shopify users aren't able to fully customize themes so designs face limitations. Where there is no such limitation in Magento.
User Experience
Since Shopify was easier to use than Magento 1, it`s the choice of many who are fearful of web. It's quicker to set up shop immediately after signing up for Shopify. Shopify includes a website-building tool to customize your store features but if you do it yourself it will likely look like an amateur store.
With big changes made in Magento 2, now, Magento is lot easier to work with. It doesn't require custom coding when there are simple solutions that already exist. Magento 2 comes with an user-friendly admin panel. It's simpler for new users to learn. Compared to Shopify, it's easier for admin to complete tasks like accessing advanced reports, managing payment processors, sort customers, market products, etc.
Ecommerce SEO
Online buyers usually begin with an online search. Finding your ecommerce website and products via Google and other search engines is very important.
Some ecommerce platforms are better than others when it comes to search engine optimization (SEO). In studies, Magento comes out on top with Shopify and Woocommerce tied for a close second when it comes to which platform is better for SEO.
Ecommerce Website Speed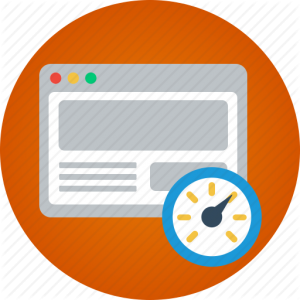 Website speed is a ranking factor for SEO. It`s also a major factor whether customers buy from your store. If it takes a while for store pages and products to load, potential customers will leave the website.
Shopify used to have better speed but with the release of Magento 2, it's not as clear which platform performs better. Compared to Magento 1 sites, Magento 2 sites loads an average of 20% faster.
Checkout Page
A quick and user-friendly checkout is another factor when comparing Shopify and Magento. The new and improved Magento 2 checkout is exceptional.
It's packed with out of the box features like distraction-free checkout, automatic guest checkout, one-click account creation, and two-step checkout. The discount code box is placed on the checkout, making the process a lot more intuitive to customers. Shipping and payment information is separated to reduce confusion.
Shopify also has a great checkout. One con is that in Shopify, business owners with the lower tier pricing plans aren't able to view real-time shipping rates.
Community Support
Magento has a much bigger community compared to Shopify. Magento developers are able to create solutions with the help of this community. Business owners don't have a problem finding a capable developer to work with. Users can go through Magento to find help, or access support and maintenance services via 3d party developers.
Ecommerce Marketplace
Magento beats Shopify hands down when it comes to capabilities for marketplace stores. There are more built-in promotion features like promotional pricing and flexible coupons that will take single- and multi-seller stores to the next level. Magento 2 comes with increased scalability and performance essential for multi-vendor stores.
Conclusion
There is no one ecommerce platform that`s best for every single online store. What works best will depend on goals, budget, and expertise. When deciding between Shopify and Magento, consider what is most important to you. If you are smaller business and do not plan to grow then Shopify is a great solution, otherwise, it`s Magento!