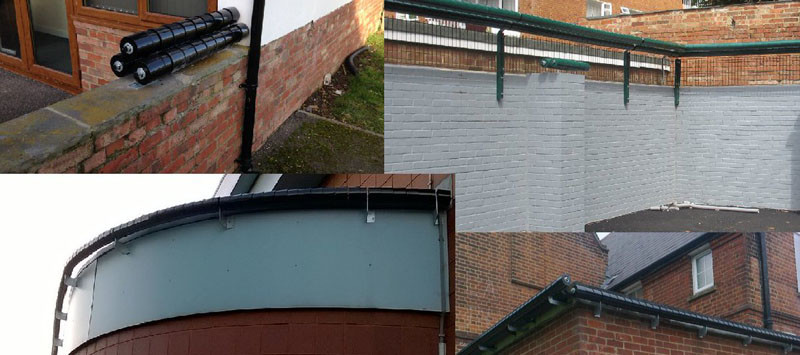 Roller barriers put off thieves, vandals and other mischief makers easily. The more difficult you can make access, the less likely they are to bother breaking in. They'll go and find a premises that isn't so secure, picking the lower-hanging fruit instead of your place. It's good to know that applying some relatively simple technology to the issue can protect your premises. And one of the simplest yet most effective solutions is the roller barrier, AKA the anti-climb barrier.
In today's world the security measures you put in place mustn't cause injury. The law says you're not allowed to hurt people, even if they are determined to access places they have no right to be! Trespassers can't actually be prosecuted for trespassing, since trespass isn't a criminal act, but you can be prosecuted if someone is injured thanks to over-zealous security measures.
If you need an anti climb barrier that isn't aggressive, that can't cause injury thanks to its clever design, we have the solution. Here's what you need to know.
Insight Security's brilliant non-aggressive anti-climb roller barrier
Insight Security's unique roller barrier system is the first choice for security-minded people who want to protect the vulnerable as well as keeping their premises safe. Take schools. It's a challenge to stop kids climbing on things. It's what children do, always have and probably always will! Insight's completely non-aggressive system delivers practical, highly effective security to many a perimeter, and comes with absolutely no risk of someone impaling or otherwise seriously injuring themselves. It's very different from your everyday spiky, potentially horribly dangerous anti-climb systems.
The barrier is ideal for protecting flat roofs, premises and grounds, making it impossible for people to easily climb over fences or gates thanks to the clever little rotating cups that make the surface far too unstable for comfort. Together these deceptively simple spinning cups create a disturbingly wobbly barrier to navigate,  and it's a lot more effective than old-school rolling tube-type versions.
Used in and around public grounds, public buildings, schools and colleges
Trusted by hospitals, psychiatric units and secure medical facilities
Loved by stately homes, parks and gardens
Ideal in prisons and young offender institutions
Used by railway operators at crossings
Installed in the USA, Canada, Australia and New Zealand – they suit every environment
Absolutely no spikes
Designed for a long life
Aesthetically pleasing – choose a colour, any colour
At 11.5cm in diameter, the recycled polycarbonate cups are exactly the right size to stop even massive, spade-like hands from getting a grip, and they're made with built-in UV protection to Southern European UV level standards for longevity. They even self-extinguish if there's a fire.
You can mount the kit on a wall either via straight, cranked or at a right angle. The Trigard Roller System is the perfect way to secure dangerous things like parapets, double skin walls and fence tops, ideal for situations where you need a more rugged solution than a single row of cups. And the twin row version is great for protecting low perimeter walls and fences.
If you want to protect your premises, keep vulnerable people safe and steer clear of legal nightmares, head to Insight for the best-in-breed roller security.