Manufacturing company marketing is how you can get your manufacturing company noticed by potential clients:
Establish yourself as a trustworthy expert, an authority in your industry or niche.
In order to become your paying customer, the visitors of your website have to perceive you as an undisputed authority, a leader in the manufacturing industry. They have to acknowledge your experience in order to trust you.

One of the best ways for a manufacturing company to build their reputation as an authority is to host or sponsor a webinar. We also recommend creating a corporate blog, publishing a white paper based on your industry knowledge, as well as attending the most important industry fairs and events.
Boost your online visibility by PPC, display ads and SEO.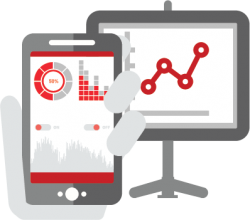 A solid digital marketing strategy should include effective keyword research, SEO, PPC and display advertising. This is how you can obtain an excellent reach among people in your target market, thus increasing your chances to get them to contact you for a quote.
Here's how such things go. Manufacturing companies have the biggest benefits when they target specific markets in those regions where they have locations or distributors.
By creating region-specific websites, you'll have much better conversion rates in your PPC and SEO campaigns. In addition, you'll be able to target more lucrative keywords, with less effort. As a matter of fact, most internet users searching for a manufacturing company will use their city or geographic area in the search string. When you need a company in New York, you're going to search for it with these very words.
Publish high quality content.
Compelling content is what makes online marketing and lead generation effective. By publishing a steady flow of high quality articles, you're going to improve your positions in search engines, thus increasing your authority and making people perceive your company as an industry leader.
This content should be able to solve the biggest problems of people in your target market. By addressing their needs and by offering them solutions and information they seek for, you'll manage to position yourself as an authority.
Give your brand a human face.
You can surpass your competitors by giving your brand a human face. Your potential clients have had enough of the boring corporate websites of manufacturing companies. They are interested in having meaningful conversations with the brands and in becoming engaged.
Our strongest piece of advice to manufacturing companies is to connect with their clients by showing them their human side. For instance, you should initiate an action meant to introduce your core team members to your potential customers. Share their photos and short stories about their passion for manufacturing.
Use Traditional Signs.
Signs can help you advertise your business to the offline market – whether they are bus stop signs or even pan signs outside the office – making sure you have a good presence in this regards helps.
Make use of virtual tours to market your products.
Invest in creating video product presentations, safety videos and how-to videos. Don't forget to include some client testimonials, as they are very powerful means to show your audience how they will benefit from becoming your customers.
Take care of your current customers.
Use online marketing for customer retention purposes. Design email marketing campaigns meant to offer these customers special discounts and various gifts.