With the IT industry set to grow by an additional 8.7% in 2019, more and more companies are stepping into this area to offer software development and other services. In order to stay relevant and offer services that truly add value for a client, these companies need to stay abreast with the latest custom software development trends in 2019. This is because the IT industry is continually evolving and seemingly newer offerings can become passé within a matter of a few months.
With that in mind, the following are a few essential custom software development trends for 2019 to keep in mind:
Artificial intelligence is as essential as ever
Almost every organization, be it an e-commerce website or a logistics firm, can benefit from using some form of artificial intelligence in their offerings.
In 2018, experts estimated that the global AI market size was 7345 Billion USD. Multiple brands are already using AI capabilities for image recognition, geophysical feature detection, and object recognition. A huge part of this comes from the numerous applications of AI within the enterprise market. In fact, this niche market generated 350 million USD in revenue alone in 2016. Even fields like healthcare are utilizing this.
Thus custom software development companies must be well-versed in this specific trend because it is here to stay for the long haul.
Multiplatform user interface development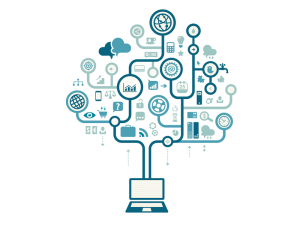 Ensuring that apps run on multiple platforms is not a new idea, but it remains to be one of the most important trends. This is mainly because even when a developer uses pertinent tools to facilitate cross-platform functionality, often, there is a significant difference between the performance of the app on the ported platform and the home platform.
Google and Microsoft have both created platforms, Flutter and Xamarin respectively that help eliminate this issue. They offer native UI libraries, OS-specific functionalities, and APIs. As a result, each app functions as though it was built for a specific OS thanks to the native code. This is something that is truly improving the software development industry.
Blockchain developers will be the kings of the future
Blockchain technology is huge and is more than just a fad. It is here to stay and its time for more developers to embrace this tech. While it is predominantly being used within the finance sector in order to simplify banking and transactions, it has multiple other uses across various industries.
As blockchain becomes the norm, more and more developers must be able to work with this tech. this is the right time to learn as much as you can about blockchain so that when the need arises, you can be one of the few experts who can offer services using this tech.
An increase in third party APIs
The IT industry is an extremely competitive one, with multiple people vying to create the Next Big Thing. If you are in the same boat, and are trying to introduce a new product in the market, you know that every second of development counts.
In fact, all the additional time you end up spending to develop your app means additional chances for your competition to release the same solution before you. This is where third-party APIs come into play. Even though this is a solution that has existed for a long time, it is one that is being increasingly used today. Everyone needs to cut down on their development time while still offering high-quality products and third-party APIs can help them achieve these goals.
With so many APIs available for developers to choose from, their development time can be cut down by choosing the right combination of the same to create their apps. Without these APIs, developers must create solutions from scratch so this can help cut down on the time significantly.
Low Code development

As the tech industry keeps changing not just in terms of the trends but also in terms of rules, regulations and policies, companies and developers can find it quite challenging to adapt their software to these new rules. The expertise of code can often leave people stumped.
As a result, low code development, which makes it much easier to customize and change apps, is now the trend. Though this trend has been settling in for a while, it is another one that cannot be discounted as a fad as it is here to stay!
As a developer, you must brush up on these essential custom software development trends for 2019. Doing so can help you provide expert-level services with ease, while others are still scrambling to stay afloat. A great way to ensure that your product is aligned with the latest trends is to work with a team of custom software development professionals. With their ear on the pulse of software development trends, they can offer comprehensive and pertinent solutions to their clients.